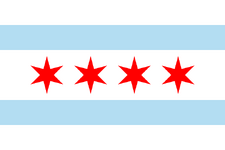 The municipal flag of Chicago consists of two blue horizontal stripes on a field of white, each stripe one-sixth the height of the full flag, and placed slightly less than one-sixth of the way from the top or bottom, respectively. Between the two blue stripes are four red, six-pointed stars arranged in a horizontal row.
Symbolism
Edit
The three white stripes of the flag represent (from top to bottom) the North, West and South sides of the city; the top blue stripe represents Lake Michigan and the North Branch of the Chicago River; the bottom blue stripe represents the South Branch of the Chicago River and the Great Canal.
The four red stars on the center white stripe (from left to right) represent:
Ad blocker interference detected!
Wikia is a free-to-use site that makes money from advertising. We have a modified experience for viewers using ad blockers

Wikia is not accessible if you've made further modifications. Remove the custom ad blocker rule(s) and the page will load as expected.